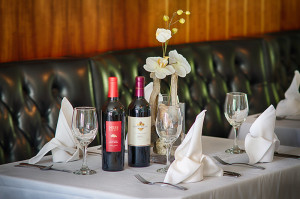 "Tantes Island Cuisine" is a fascinating new experiential dining venue.
Relax into your evening with a fine cocktail or choose from our collection of more than fifteen wines by the glass, accompanied by creative signature small plates.
"Tantes Island Cuisine" will delight you with dishes that are influenced from cuisines from around the world. Our wine room can host eight to ten guests for an intimate dinner or wine pairing.
Come and enjoy our delightful atmosphere and the amazing views while enjoying a cocktail and our famous cuisine.
Whether you want to savor a gourmet dinner or grab a snack, "Tantes Island Cuisine" serves delicious favorites and local, seasonal specialties, including Shrimp Sari Sari, Babyback Ribs, Catch of the Day, Steak and Lobster and much more.
In addition to the superb taste of our dishes, our menus provide pictures, so you'll be informed and get an idea of what you can order, and be well nourished and utterly happy.
"Tantes Island Cuisine" drinks are prepared with your good health in mind
If you are the creative type, we will love to help you invent your own, signature cocktail or, simply relax and enjoy a fancy cocktail from our long list of traditional ones.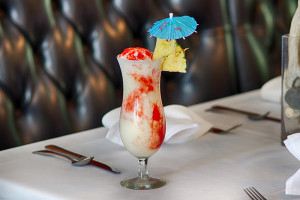 Complement your choice of delicious cuisine with the highest quality sustainable and biodynamic wines, beers and spirits from our extensive wine list. Whether you dine, or sip a cocktail with friends, you'll discover our unique and healthy options.
Enjoy a delicious breakfast, lunch or dinner at "Tantes Island Cuisine" at any time during your visit. Our restaurant also offers a wide range of classic American menu items, including sandwiches, salads and an assortment of entrees.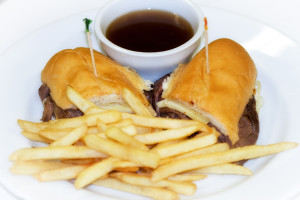 "Tantes Island Cuisine" is swept up in a trend of fusion cuisine, which combines Asian, French, American, and Latin cooking with sumptuous—and pricey—results.
We also have a casual eatery serving daily breakfast, lunch and dinner. Enjoy our expansive breakfast buffet featuring morning favorites, like French toast, frittata, omelets, eggs and pancakes.
Experience Magnifique Events at "Tantes Island Cuisine".
Events come naturally with spectacular indoor and outdoor spaces featuring stylish decor. With impeccable attention to detail, our experts will plan an event that sets a new standard for perfection so contact us for your next banquet or catered event.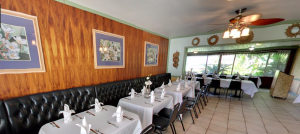 Our restaurant offers elegant event spaces, private outdoor terraces, an art deco Ballroom and meeting rooms. Let flawless service and exceptional contemporary Filipino and Hawaiian cuisine set the stage for events of distinction.
Our chef's drive and passion for showcasing healthy food to its fullest potential and his years of experience at locally acclaimed restaurants and luxury resorts – helps make dining, a guilt-free sensory experience that's truly second to none.
"Tantes Island Cuisine" is an all-new signature restaurant and lounge, where we offer inventive menus prepared by our acclaimed Executive Chef Tante Urban, to satisfy every palette.
For dining reservations or more information regarding our hours of operation, and or catering or banquets planning,  please contact us at 1-(808) 877-0300